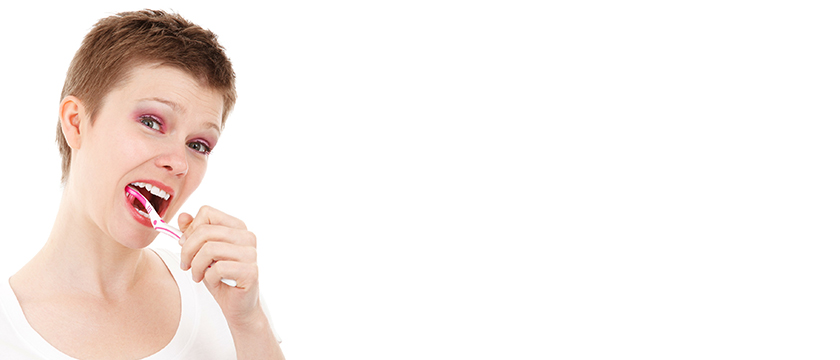 The most important activity in basic oral hygiene is brushing your teeth. This is what he ADA says about how to brush properly for good dental health:
Brush teeth at least twice daily – ideally with soft bristles. Choose your toothbrush sensibly so that it is comfortable in your mouth and so that you can easily access and clean all the surfaces of your teeth.
A worn out toothbrush is not as effective as new one. You should replace your toothbrush every three months. Inspect it frequently and watch for signs of early wear and fraying.
Choose only toothpastes that have met the basic ADA requirements and are approved.
Follow these guidelines on how to use your toothbrush:
Use your toothbrush at a 45 degree angle to the gums
Brush right and left in short strokes to clean the outer and inner surfaces and the chewing surfaces
When cleaning the inner front surfaces hold the brush vertically. Then brush in a short up and down motion.
Don't forget to brush your tongue to remove the potentially harmful bacteria that lodge there.
To complete your full oral hygiene daily program, also include these activities:
Bacteria cause tooth decay so you need to remove all food particle and plaque for those harder to reach areas of your mouth also. Use floss or an interdental device to clean between your teeth and blow your gum line.
A health and well balanced diet contributed to dental health as well as overall physical and mental wellbeing.
Download our PDF – how to brush
The ADA stamp of approval is something you should watch out for when selecting dental products. It means that the item has passed the ADA's basic checks for safety and suitability. It is always advisable to speak with your dentist about all aspects of oral hygiene and dental care. Don't assume that you know the answer.