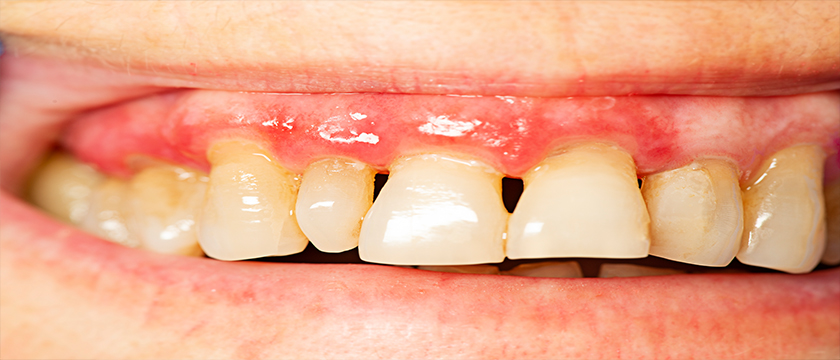 Gingivitis is the infection caused by bacteria in the plaque, so it's simply a bacterial infection of your gums and is the first sign of gum disease. The good news is that it's relatively easy to treat if it is diagnosed early. Typical symptoms are bleeding gums, or simply gums that have become swollen and red. Your dentist can carry out a professional thorough cleaning that should eliminate the problem, providing you follow up by maintaining a regular daily program of that includes flossing  as well as brushing.
Periodontitis is the other end of the gum disease scale, where it has become advanced. Untreated, it can attack the gum tissue and even the bone that forms the foundation for your teeth, and eventually lead to your teeth loosening and moving around.  These symptoms are typical of adult periodontitis. It can also happen in children or at any stage in life. Normally it progresses fairly slowly in between bouts of more aggressive decay.
Rapid progression of gum disease is called aggressive periodontitis. It can manifest itself in patients who appear to be totally healthy. It is not restricted to the gum are but can attack other parts of the mouth or the whole mouth. It presents as very rapid deterioration of bone and tissue.
It is possible that some systemic conditions, such as stroke or diabetes, may be causative factors in periodontal disease. Ongoing research appears to link the two but the results are not yet conclusive.
Regular dental checkups are one proven way to detect gum disease. Because it often goes unnoticed, you can at least depend on your dentist to diagnose it if it occurs. How it is treated depends on the condition of your gums and mouth and just how advanced the disease has progressed. Prevention starts with a sound but simple program of daily dental and oral hygiene. While anybody can contract gum disease, you should never have to lose your teeth because of it. Just remember to brush at least twice daily, floss between your teeth, avoid sugary snacks and drinks and see your dentist every six months. That should keep you on the right road to a bright smile and a carefree dental outlook.